Corporal Beast Guide: (Level: 785)Edit
Recommended Stats:Edit
99 Attack, Strength, Defense, Range, Magic, & Prayer
138 (Max)
See the Photo for my Reccomended inventory: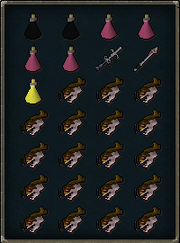 Bring: Overloads, Super Restores, Melee Armour, Melee Weapons, Range Armour, Range Weapons, Magic Armour, Magic Weapons (Preferrably a Melee Weapon with a Good special attack, like a Korasi or AGS)
Talk To Mr Ex (At ::Home, Right of the Grand Exchange) And Select: Corp (4th Page)
Protect From Mage (Corporal Beast), and Melee (Corporal Beast).
Instructions:Edit
Be ready before you enter the cave. when you do, immediatly attack him. Depending on what type of combat your using (such as magic, or range) you might have a harder time with corp.
Drink Super restores to get up prayer, and eat about every 1-2 hits. Without prayer, Corporeal Beast can easily 1 Hit you. he even hits well thorugh prayer, making him one of the toughest bosses on Prothieum Today.
Important: ALWAYS Have more than 500 HP when fighting Corp. Drink Overloads and start praying BEFORE you get to Corp!
Good Luck!
-Promethius