Nex Guide: (Level 1001)Edit
Recommended Stats:Edit
99 Attack, Strength, Defense, Range, Or Magic.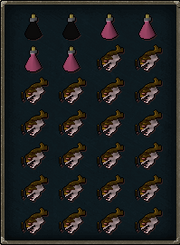 138 (Max) or Near this Level.
See the Photo for my Reccomended inventory:
Bring: Overloads, Super Restores, Melee Armour, Melee Weapons, Range Armour, Ranged Weapons (Preferrably a Chaotic Weapon such as a Chaotic Rapier for Melee and Chaotic Crossbow for Range.)
Talk To Mr Ex (At ::Home, Right of the Grand Exchange) And Select: Nex (1st Page)
Protect From Mage (Fumus, Umbra, Cruor, Glacies), and Melee (Nex).
Instructions:Edit
USE GROUP KILLING!
Get a team of your buddys and go fight her! Nex is nearly impossible on 1 inventory and no help.
It is also a smart idea and ask your friends if if you want to share loot.

Take Out her 4 minions around her As Soon As She Says There Name In a Sentence, Or you will NOT be able to deal damage to her! Drink Super restores to get up prayer, and eat about every 2-3 hits. Without prayer, Nex can 2 Hit you (Rare) and can deal about 200-400 damage.
Phrases:
Initial phrase
AT LAST!
Fumus! Umbra! Cruor! Glacies!
Smoke phrase
Fill my soul with smoke!
Let the virus flow through you!
There is...NO ESCAPE!
Fumus, don't fail me!
Shadow phrase
Darken my shadow!
Fear the shadow!
Embrace darkness!
Umbra, don't fail me!
Blood phrase
Flood my lungs with blood!
A siphon will solve this!
I demand a blood sacrifice!
Cruor, don't fail me!
Ice phrase
Infuse me with the power of ice!
Contain this!
Die now, in a prison of ice!
Glacies, don't fail me!
Final phrase
NOW, THE POWER OF ZAROS!
Taste my wrath!

(Source: The Runescape Wiki, http://runescape.wikia.com)
Important: Drink Overloads and start praying BEFORE you get there.
Good Luck!
-Promethius
Fun Fact: Did you know that Nex stands for "Death", Or "Murder" in Latin? :D