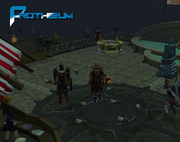 Welcome to the Prothieum WikiEdit
Prothieum is an Awesome RuneScape Private Server. We have updates weekly along with an amazing staff team and players!
Prothieum Description:
Edit
Prothieum is a RSPS That will totally blow your mind.
Here at Prothieum, Amazing staff is just one thing this server has. Check out the other Awesome things that this great has to offer Below!
-Working Grand Exchange
-ALL But One Skills Working
-Active Forums!
-Working Dungeoneering
-Epic Bosses
-Custom Fight Kiln
-Donor Zone + Staff Zone!
-Dicing
-Wests, Easts, Mage Bank for PVP.
-Chaotics
-Full Torva, Vesta, Statius, Virtus, Pernix, Zuriels, & More!
-Awesome Wiki!
Honestly, What are you waiting for? Click the Links Above and Join or Play Now!
-
Promethius
from Prothieum RSPS.
Latest activity
Edit